This exquisite precious gemstone is a popular alternative engagement ring to the classic diamond ring. The Emerald is the statement piece that everyone will be talking about. We're confident we can craft you, the perfect custom emerald ring at Waldemar Jewellers Sydney.
See all products
Why Choose an Emerald Engagement Ring?
Having an Emerald centre stone as your engagement ring is interesting, unique, creative, and breathtaking.  Emeralds are not "too soft" as they are quite scratch resistant. Being a 7.5-8 on the mohs hardness scale with a diamond being a 9. This means they are durable for everyday wear; they are also highly versatile stones that work with a wide variety of settings and designs. This allows the brilliant green hue of an emerald to be used in both traditional and more modern engagement rings. Generally, they are also less expensive than diamonds, therefore, they are more affordable choice when looking for your perfect piece. It will also make your engagement ring unique because emeralds are less commonly found in engagement ring.
Book a Consultation
See our range
Emerald Pendant Necklace
Due to its stunning colour, an emerald necklace is a jewellery piece that you can wear every single day without being afraid of scratching it. This is because the emerald has a high hardness score that is only surpassed by the diamond. Some people believe wearing an emerald necklace means attracting love, good luck, and peace.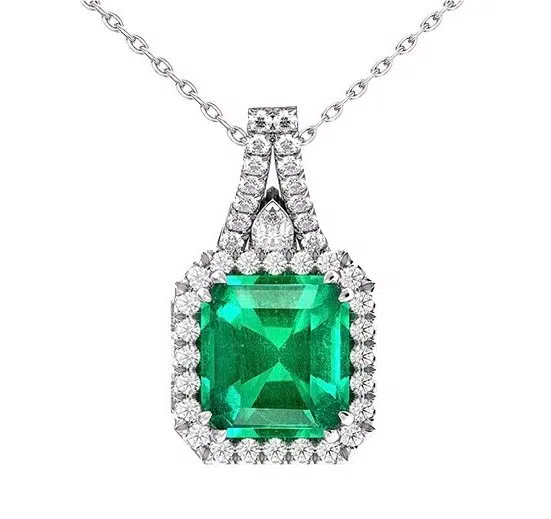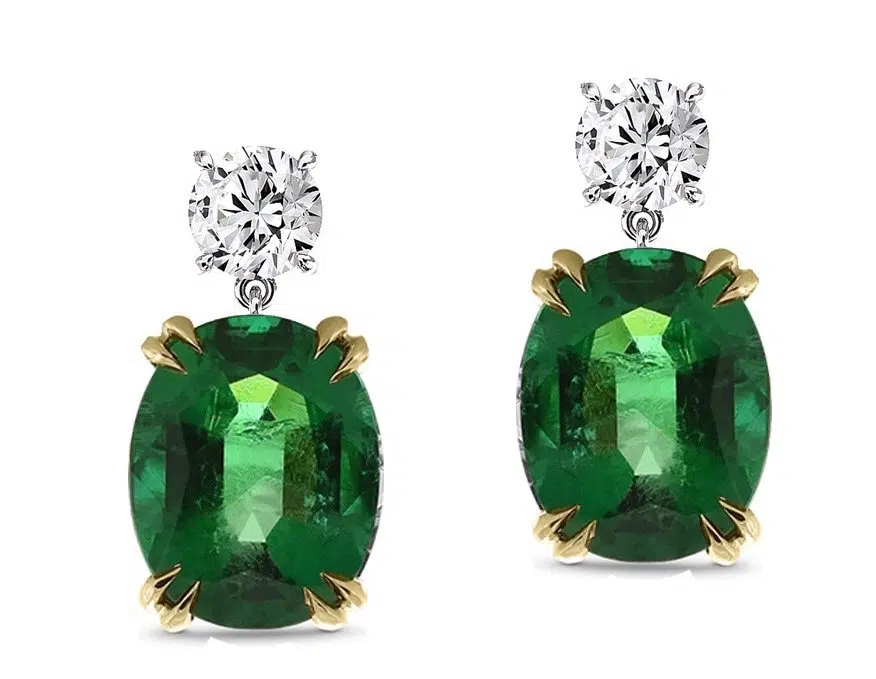 Emerald Earrings
Emerald earring looks great adorning any pair of ears, regardless of style, hair colour, or skin tone. Every beauty is enhanced by these earrings. It is also a category of emerald jewellery that packs a virtually endless supply of symbolism, style, healing, and positivity.
The Timeless Allure of an Emerald
Emeralds were found in Egypt around 1500 BC. However, some estimate that the oldest Emeralds are 2.97 billion years old. In fact, one of Cleopatra's favourite stones is the Emerald. She even claimed ownership of all emerald mines in Egypt during her reign.
Emerald gemstones were discovered in South America in the 16th century by the Spanish. It took the Spanish conquistadors nearly twenty years to find them because the Muzo Indians of Colombia had well-hidden and prized emerald mines.
Today, the emerald is a symbol of loyalty, new beginnings, peace, and security. Making it not only a beautiful gemstone to wear, but also a meaningful jewellery gift to be treasured by the receiver. Emeralds are believed to be encouraging, calming, and balancing because of their colour. They are thought to promote creativity and restore optimistic hope in dreams and visions. Emeralds are also thought to bring good fortune and are often seen in the cash boxes of business owners who seek to prosper in their endeavours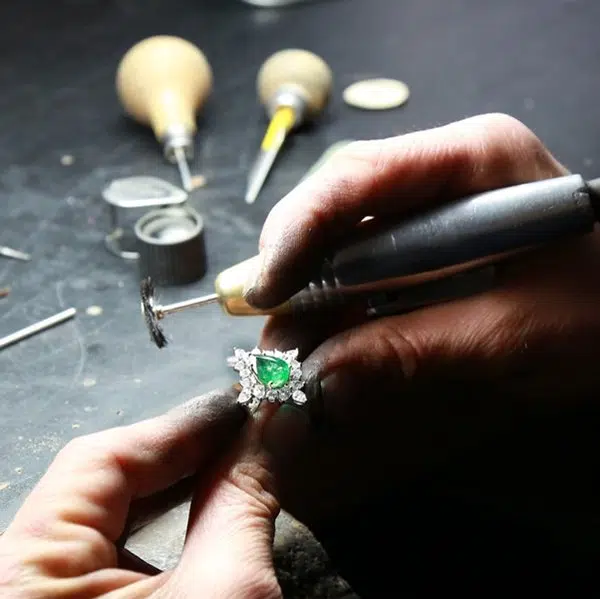 The 4 C's of Emerald Gemstones
At Waldemar Jewellers, our proficiency in determining the quality of jewels and gemstones is one of the reasons we have earned the reputation of being Sydney's best jeweller. When assessing the quality of sapphire, we follow the four C's; cut, colour, clarity and carat weight.
Cut: The cutter must consider the rough depth of colour, durability and inclusions when making cutting decisions. Mistakes cause weight loss, which greatly reduces the value of a potentially valuable gem.
Colour: The most desirable emerald colour is green to pure green, with vivid colour saturation and tone that's not too dark. The most-prized emeralds are highly transparent. Their colour is evenly distributed, with no eye-visible colour zoning. If the hue is too yellowish or too bluish, the stone is not emerald.
Clarity: Emeralds typically contain inclusions that are visible to the unaided eye. Because of this, trade members and some consumers understand and accept the presence of inclusions in emeralds. Eye-clean emeralds are especially valuable because they are so rare.
Carat Weight & Size: Fashioned emeralds come in a wide range of sizes. There are emeralds in museums and private collections that weigh hundreds of carats. At the other extreme are tiny emeralds that weigh fractions of a carat. The smallest sizes range from 1 mm to 5 mm, with weights from 0.02 to 0.50 carat, while 1 to 5 carat stones are popular as center stones.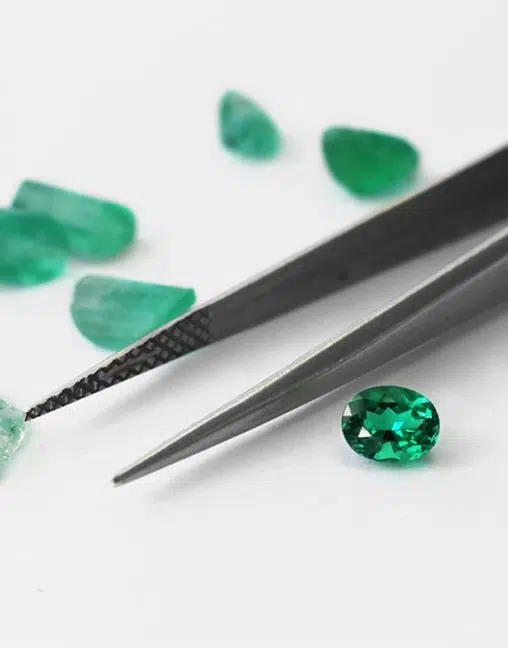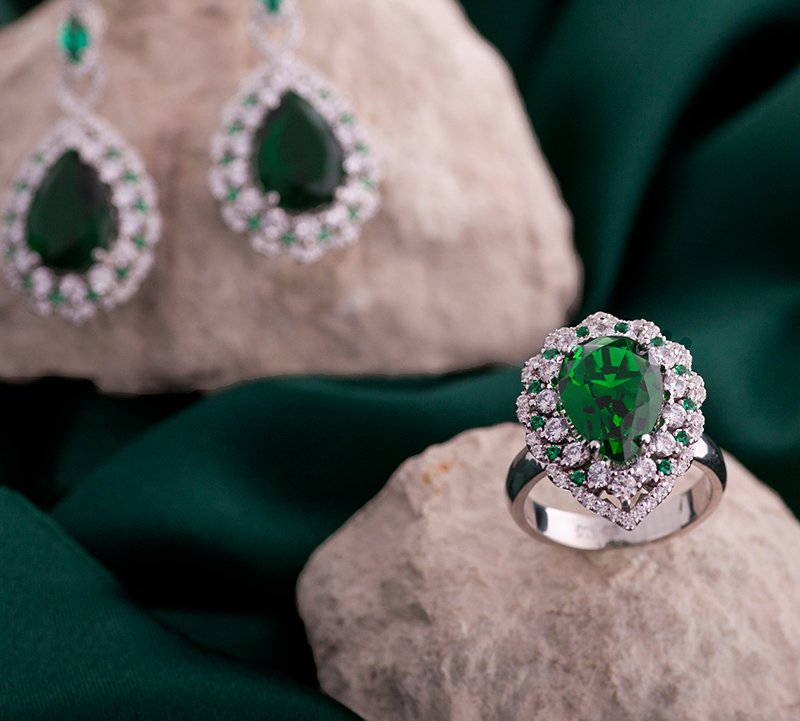 Celebrities Wearing Emeralds
The beauty of emeralds is even enough to attract celebrities and royalty to wear them. Multiple times celebrities has seen walking down the red carpet with emeralds as their jewellery. Such as Angelina Jolie in 2009, her 115-carat emerald drop earrings and 65-carat ring totally stole the show. Other celebrities and actresses also famous for wearing emerald jewellery on the red carpet, such as Megan Fox, Zendaya and Gina Rodriguez.
Here at Waldemar jewellery, you can create your own unique pieces with us.
Book a Consultation
See our range
One Of A Kind Emerald Fine Jewellery
Emeralds hold a unique distinction in the world of gemstones as they are one of the four traditionally considered to be precious. The emerald has a long history as a sought-after gem with its unique green colour and relative rarity. Its signature green colour is special to the stone but can vary from emerald to emerald. Here at Waldemar Jewellers, we offer a wide range of emerald fine jewellery. With custom settings and designs that you can choose according to your desire.
Browse our full range of emerald fine jewellery to find a beautiful statement piece for you or your loved ones.
View Collection