JEWELLERY REMODELLING SYDNEY CBD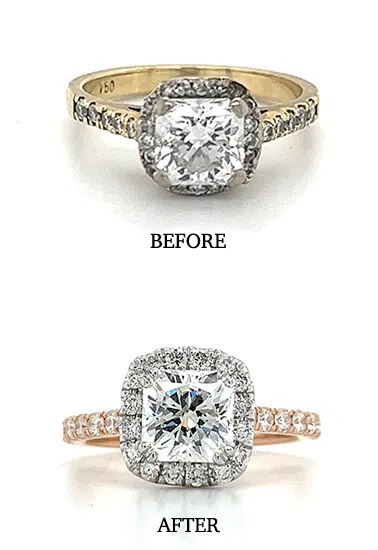 At Waldemar Jewellers we specialise in jewellery remodelling services in the Sydney CBD.
You may have an engagement ring you want to upgrade or a family heirloom you love but is outdated. Make it your own by redesigning it so you can wear and enjoy it every day. Jewellery remodelling hand crafted here in Sydney could be a good option for these pieces with high sentimental value.
Come into our showroom in The Dymocks Building for a free one-on-one consultation to discuss your ideas on how to transform your piece. Our design consultants will gladly assist in bringing your ideas to life through sketches and 3D computer rending. That will enable you to visualise your new piece of jewellery.  Once you are happy with the design and turn it into a unique personalised piece.
We have over 20 years of experience in custom made jewellery and jewellery remodelling. We are sure that with your ideas and our jewellers creativity, we will find a design to give a new life to your old sentimental jewellery. Let's convert it into an amazing piece that you will love to wear and enjoy every day.
Redesigning old jewellery, remodelling diamond rings, redesigning engagement rings or remodelling sapphire jewellery are our main requests, we will be happy to help you find the best design for your new piece of jewellery.
Our expert team can upgrade your existing sapphire or diamond, source matching diamonds that may be missing or start from scratch and create you the ring of your dreams.
Please note that we work to very a high quality craftsmanship and want to redesign a piece for you that will last a lifetime. With that being said we will advise you at the time of the appointment if your precious gemstones and metals can be re-used or not in the new design. 
browse our designs for inspiration
See for yourself what some of our very happy customers say about Waldemar Jewellers.
My partner gave me his grandma's Saphire for Christmas. After hearing great things about Mark from a close friend we went and met with him with a view to getting him to design a ring for us. I was a bit nervous as I generally don't wear jewellery and wanted it to be something I'd love and wear every day. Mark did an amazing job with the design and we are so happy with the result. I get complimented on it all the time.
Very happy. Went out of their way to help us with designs to remake an engagement ring to exactly what we wanted and the wedding bands Mark made for us were absolutely fabulous!!! Extremely happy and will recommend them to friends in the future!!!
Mark goes out of his way with design and practicality ideas. He is willing to put in time and effort with the customer to make the perfect ring. He did an amazing job. A wonderful experience dealing with Waldemar Jewellers!