how to buy a blue sapphire engagement ring
When it comes to choosing an engagement ring, blue sapphire is a stunning and unique option. With its rich blue color and excellent durability, a blue sapphire engagement ring is a timeless choice that will make a bold statement. Here are some tips on how to choose and buy the perfect blue sapphire engagement ring.
Choose the right shape and size.

Sapphires come in a variety of shapes and sizes, from oval and round to pear and emerald cut. It's essential to choose a shape and size that reflects your partner's style and personality. Keep in mind that the larger the sapphire, the more expensive it will be. It's important to balance size and quality when selecting the right stone for your budget.

Consider the quality of the stone.

Like diamonds, sapphires are graded based on the four C's; colour, clarity, cut, and carat weight.
The colour of a blue sapphire is the most important factor in determining its value. Look for a sapphire with a rich blue colour that is evenly distributed throughout the stone.
Clarity refers to the presence of inclusions or blemishes in the stone. While some inclusions are expected in a natural sapphire, the fewer and less visible they are, the higher the stone's value.
The cut of a blue sapphire can also affect its value and brilliance, for example, an emerald cut blue sapphire needs to have a higher clarity than a round cut as it has a bigger table where inclusions can be seen.
Finally, the carat weight of the sapphire will also affect its value, but it's essential to balance size and quality when choosing the right stone for your budget. Generally, blue sapphires are more budget-friendly stones, so you can get a bigger size stone than if you were to use a natural diamond.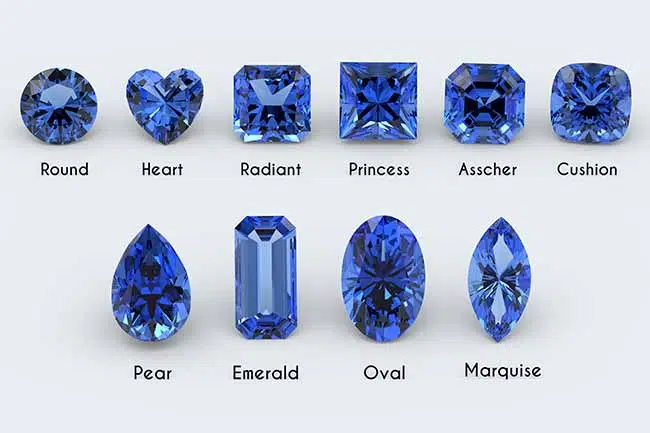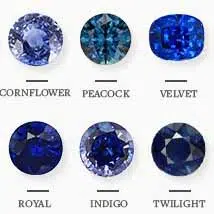 3. Consider The Origin Of The Stone
The origin of the stone can determine the hue of the blue sapphire and the price. Ceylon Blue Sapphires are the most sort after in a colour range between cornflower and royal blue. Some people prefer a more unique darker blue of the Australian Blue Sapphire that also comes at a lower price point. To find our more about the different countries that produce blue sapphires and how it affects their colour click here
4. View The Stone In Person

We always recommend choosing your Blue Sapphire in person. Ask to see multiple blue sapphires during your appointment so you can narrow down the hue of blue  you are looking for and the shape of the blue sapphire you want to create the ring with. You will be surprised by how different every single stone is, so it's best to see in person which one jumps out at you.

5. Ask For A Certification
Most Blue Sapphires don't come with a certification as diamonds do. You can ask when purchasing a blue sapphire for the stone to be sent away for certification. This certificate verifies the quality of the stone and provides an objective evaluation of its colour, clarity, cut, and carat weight.
6. Choose the right setting
The setting you choose for your blue sapphire can make a significant difference in the overall appearance and durability of the piece. Claw settings are a popular choice as they allow light to enter the stone, enhancing its brilliance. Bezel settings, on the other hand, offer more protection for the stone but may not allow as much light to enter the stone. It's important to choose a setting that not only showcases the beauty of the stone but also protects it from damage.
7. Choose the right metal
The metal you choose for your blue sapphire engagement ring is also important for the overall design. White gold and Yellow Gold are the most popular choices that complement the cool tones of a blue sapphire. Many people also opt for a combination of the two metals with the band being on metal and the claws and basket being another. Consider your skin tone and personal style when selecting the metal for the piece.
8. Don't rush the decision
Choosing an engagement ring is a significant decision, and it's important not to rush the process. Take your time to explore different styles and options and consider your partner's preferences and personality. This is a ring that your partner will wear for the rest of their life, so it's important to make sure that it's a meaningful and thoughtful choice.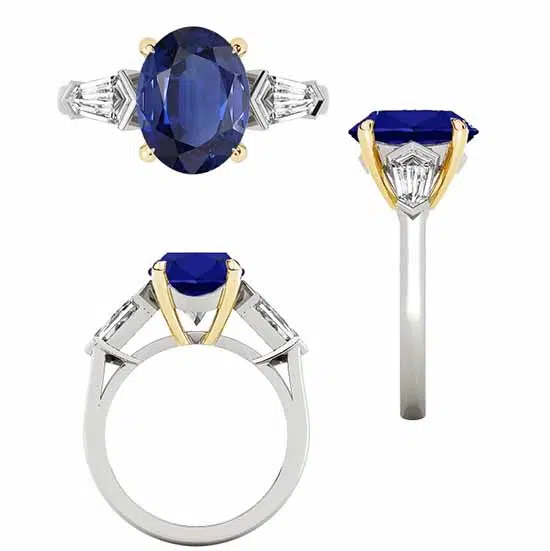 BESPOKE BLUE SAPPHIRE ENGAGEMENT RINGS
As a renowned Sydney jeweller, we excel in crafting stunning blue sapphire engagement rings, customised to your exact preferences. Each ring is a unique masterpiece, meticulously crafted to reflect your desires. Whether you have a specific vision or seek guidance on contemporary or classic designs, we offer complimentary one-on-one consultations at our conveniently located showroom in The Dymocks Building, Sydney's CBD. During this consultation, our Sapphire expert will discuss various specifications, styles, and options for blue sapphire engagement rings. You will be able to view numerous sapphires in person to make your decision easier.