Custom Sapphire & emerald Jewellery
Waldemar Jewellers aims to craft a truly one-of-a-kind piece of sapphire jewellery and emerald jewellery that's exclusively yours. We encourage you to explore our Sapphire Fine Jewellery designs and Emerald Fine Jewellery designs and draw inspiration from our distinctive designs that are created with utmost care and affection. Your options are limitless, and the only constraint is your imagination when it comes to choosing a design that incorporates these exquisite gemstones. During your consultation for personalised fine jewellery, our expert jewellers will present to you the latest trends and design alternatives featuring sapphire and emeralds. So why not start creating a unique piece today? Our Personalised Fine Jewellery services are now conveniently located at the Dymocks Building in the heart of Sydney CBD. Your dream piece featuring sapphire or emerald is just a click away.
our latest personalised fine jewellery
About our Custom Fine Jewellery services in Sydney CDB
At Waldemar Jewellers, we are renowned for our bespoke fine custom jewellery services in Sydney. If you have unique ideas for pendants, necklaces, signets, earrings, bangles, bracelets, or cufflinks, we can collaborate with you to turn them into reality. As custom jewellery specialists in Sydney, we possess a wealth of experience in designing and crafting exceptional pieces of jewellery that are truly one-of-a-kind. Our custom jewellery is perfect for all occasions or as the ideal gift for your loved ones.
The process commences with a design consultation led by our head designer, who has been voted the best jeweller in Sydney. We take inspiration from your ideas and personality during the design conceptualisation and guide you through the process. Our team will create sketches during the consultation to bring your vision to life on paper. We work closely with you and refine the sketches until your desired outcome is achieved.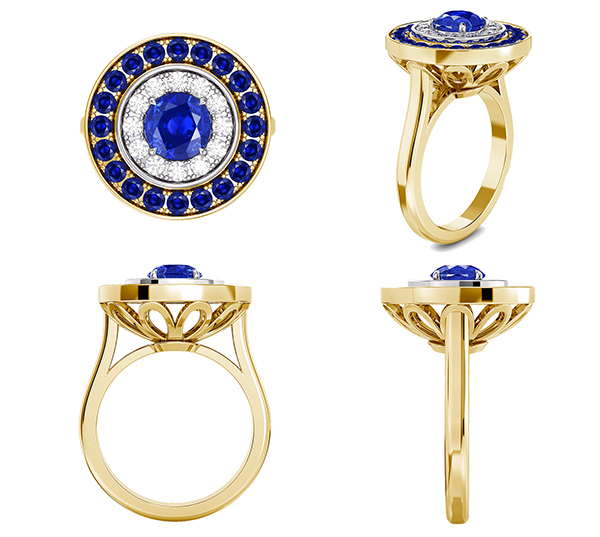 3D Render of a Sapphire and Diamond Dress Ring for customer pre-approval.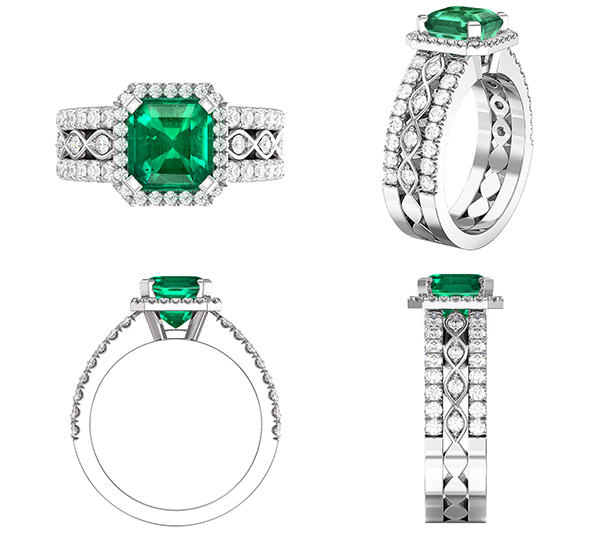 Custom jewellery – Emerald and Diamond Dress Ring
At Waldemar Jewellers, we aim to provide you with greater confidence that your envisioned jewellery will be brought to life. To achieve this, we leverage advancements in technology. By utilising computer software, we can create an accurate 3D rendering of your custom piece, enabling you to visualise a realistic representation of the finished jewellery. Once you approve the final design, we'll begin the magic of craftsmanship.
We procure only the finest raw precious materials before crafting your special piece by hand. You can rest assured that we'll collaborate with only the best and most skilled jewellers and craftsmen in Sydney to bring your design ideas to fruition.
Check our popular how to buy a blue sapphire and how to buy an emerald guides.
Book an Appointment