Custom Made Diamond Jewellery
BESPOKE DIAMOND JEWELLERY
Being a prestigious jewellery atelier in Sydney, we specialise in the creation of exquisite diamond jewellery that are truly exceptional. Each bespoke diamond jewellery piece is meticulously designed to match your distinct desires and specific requirements. Whether you possess a well-defined vision or seek inspiration from contemporary trends or timeless designs, we offer complimentary one-on-one consultations at our conveniently located showroom within The Dymocks Building, situated in Sydney's vibrant CBD. During this consultation, our experienced jewellery designers will delve into a variety of specifications, styles, and options for your personalised wedding rings, ensuring that you are well-informed when making your ultimate jewellery selection.
About our Custom Diamond Jewellery services in Sydney CDB
At Waldemar Jewellers, we are renowned for our bespoke custom diamond jewellery services in Sydney. If you have unique ideas for pendants, necklaces, signets, earrings, bangles, bracelets, or cufflinks, we can collaborate with you to turn them into reality. As custom diamond jewellery specialists in Sydney, we possess a wealth of experience in designing and crafting exceptional pieces of jewellery that are truly one-of-a-kind. Our custom jewellery is perfect for all occasions or as the ideal gift for your loved ones. We work with both natural diamonds and lab diamonds to keep within your budget.
The process commences with a design consultation led by our head designer, who has been voted the best jeweller in Sydney. We take inspiration from your ideas and personality during the design conceptualisation and guide you through the process. Our team will create sketches during the consultation to bring your vision to life on paper. We work closely with you and refine the sketches until your desired outcome is achieved.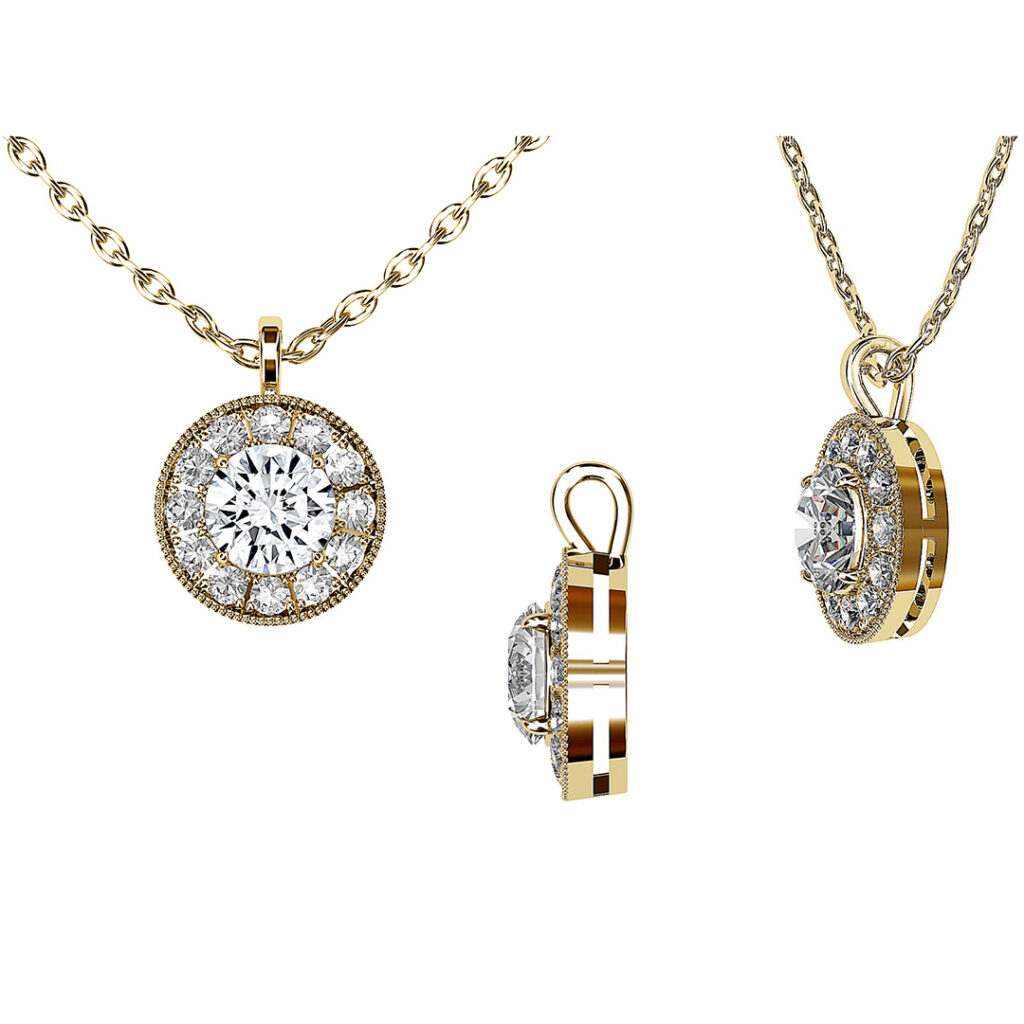 3D Render of a Diamond Halo Necklace for customer pre-approval.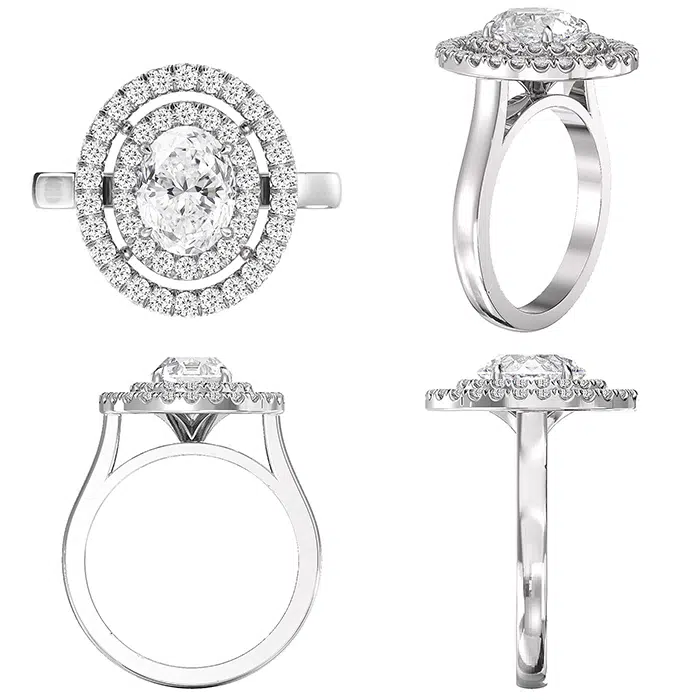 Custom jewellery – Double Halo Diamond Ring
At Waldemar Jewellers, we aim to provide you with greater confidence that your envisioned jewellery will be brought to life. To achieve this, we leverage advancements in technology. By utilising computer software, we can create an accurate 3D rendering of your custom piece, enabling you to visualise a realistic representation of the finished jewellery. Once you approve the final design, we'll begin the magic of craftsmanship.
We procure only the finest raw precious materials before crafting your special piece by hand. You can rest assured that we'll collaborate with only the best and most skilled jewellers and craftsmen in Sydney to bring your design ideas to fruition.
Check our popular how to buy a diamond stud earrings and the 4 C's of Diamond guides.
Book an Appointment